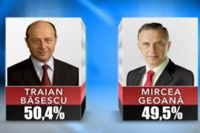 Preliminary official results indicate a narrow victory for incumbent Traian Basescu in Sunday's presidential run-off.
With 95.7 per cent of the vote counted, election authorities said Basescu polled 50.43 per cent, while challenger Mircea Geoana received 49.57 per cent.
Earlier exit polls indicated a narrow victory for Geoana.
On Sunday evening, both candidates claimed victory.
The winner will now face enormous challenges. A caretaker government headed by Emil Boc has been running the country since October and the disbursement of a International Monetary Fund-led 20 billion euro loan has been put on hold until a new government takes office and approves a budget for 2010. The loan is conditional on significant public spending cuts and cuts in public service jobs.