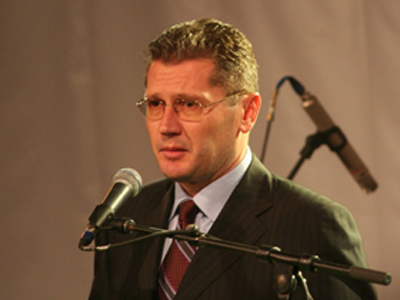 Romanian prime minister-designate Liviu Negoita said on Wednesday he had stepped aside to allow parties to discuss forming a majority government following President Traian Basescu's re-election earlier this month.
Basescu, who is due to be confirmed by the Constitutional Court for a new five-year term as president on Wednesday, said he would start political consultations with the opposition later in the day.
A quick formation of a cabinet is key to unlocking a political deadlock that has hampered policymaking and halted a 20 billion euro ($29.3 billion) International Monetary Fund-led rescue loan package.
Basescu narrowly won a presidential runoff on Dec. 6 and has promised to form a government quickly around his Democrat-Liberals with support from other opposition groupings to end months of political and economic crisis.
Negoita had been trying to form a minority cabinet since last month to replace the outgoing centrist Emil Boc, who was ousted by opposition parties in a vote of confidence in October.
However, Negoita said he had stepped aside to make way for a majority coalition. "Yesterday I gave up my mandate … I consider that (political) consultations should take place without any impediment tied to me," he told reporters.
Analysts say the president could potentially announce a new prime minister-designate and a draft cabinet plan by the end of the week.