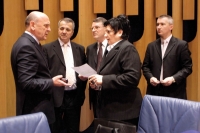 Dom naroda parlamenta BiH usvojio je jučer Zakon o agenciji za prevenciju i borbu protiv korupcije BiH, čime je ispunjen još jedan uslov za liberalizaciju viznog režima.
Zakon će stupiti na snagu tek nakon usaglašavanja, pošto su Predstavnički i Dom naroda parlameta BiH usvojili dvije različite verzije.
Predsjedavajući Kluba delegata bošnjačkog naroda Hazim Rančić tražio je da se iz teksta zakona briše odredba po kojoj agencija za borbu protiv korupcije, osim direktora, ima i dvojicu zamjenika.
"Direktor agencije imat će zamjenike koji neće raditi ništa 11 mjeseci godišnje. Radit će samo kada direktor ode na godišnji odmor ili na bolovanje. Nisu nam potrebni zamjenici direktora, jer nema potrebe da i na to trošimo novac", istakao je Rančić.
Hrvatski i srpski delegati usprotivili su se ukidanju funkcija dva zamjenika te je izglasan zakon koji predviđa da direktor agencije ima zamjenike.
Delegati Doma naroda jučer su odbacili negativno mišljenje Ustavno-pravne komisije ovog doma o izmjenama Krivičnog zakona BiH. Usvajanje izmjena ovog zakona također je uslov iz smjernica za liberalizaciju viznog režima za građane BiH.
Ministar pravde BiH Bariša Čolak naglasio je da predložene izmjene Krivičnog zakona znače provedbu obaveza koje je BiH preuzela potpisivanjem niza međunarodnih konvencija.
"Predložene izmjene zakona su konsezus postignut u timu za praćenje provedbe krivičnog zakonodavstva, koji ima 17 članova i koji predstavljaju pravosudne institucije svih razina vlasti. Ne tvrdim da se neka od ovih rješenja neće pokazati lošim, ali zato i imamo tim koji prati praktičnu primjenu i predlaže izmjene", kazao je Čolak.
Slobodan Šaraba, srpski delegat, tražio je odbacivanje izmjena Krivičnog zakona već u prvom čitanju, jer smatra kako sudovima ne treba dati mogućnost da na osnovu opravdane sumnje oduzimaju imovinu optuženima ili osumnjičenima za krivična dijela.
"Upitna je i nadređenost ovog zakona nad entitetskim, jer krivično zakonodavstvo je isključiva entitetska nadležnost, a ovim zakonom se predlaže da se entitetski zakoni usklade sa državnim" rekao je Šaraba.
Replicirala mu je Alma Čolo, bošnjački delegata, citirajući ustavnu odredbu po kojoj će entiteti provoditi odluke državnih institucija.
"BiH se obavezala da će svoje zakonodavstvo u oblasti borbe protiv terorizma, pranja novca, organiziranog kriminala i ilegalne trgovine nuklearnim oružjem uskladiti sa međunarodnim konvencijama. Ne možemo usvojiti konvencije, a onda ih ne primijeniti u zakonodavstvu", pojasnila je Alma Čolo.
Na kraju, delegati nisu prihvatili izvještaj komisije koja je predložila odbacivanje izmjena zakona. Komisija će pripremiti novi izvještaj, a Dom naroda će se ponovo izjašnjavati o izmjenama Krivičnog zakona.
Zakon o nestalim osobama
Dom naroda parlamenta BiH jučer nije prihvatio izmjene Zakona o nestalim osobama BiH. Protiv su glasali delegati srpskog naroda.
"Ne možemo tražiti da država izdvaja novac za fond za pomoć porodicama nestalih, a ne znamo koliko je osoba nestalo. RS ima registar nestalih, dok FBiH nema tog registra. To znači da ne znamo koliko osoba bi bilo obuhvaćeno ovim fondom, a samim tim ni koliko novca nam treba za realizaciju ovog zakona" kazala je Dušanka Majkić, zamjenik predsjedavajućeg Doma naroda parlamenta BiH.