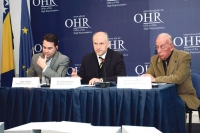 Ured visokog predstavnika međunarodne zajednice završio je popis državne imovine, a politički dogovor o njenoj raspodjeli i vlasništvu odgovornost je domaćih političkih lidera, izjavio je Valentin Incko, visoki predstavnik, prilikom jučerašnje prezentacije baze podataka o državnoj imovini.
"Naš tim napravio je popis imovine koju je BiH dobila sukcesijom SFRJ i imovine čiji je vlasnik bila SR BiH. Držali smo se definicije državne imovine koju je 2004. utvrdilo Vijeće ministara BiH. Prikupili smo podatke iz 48 zemljišno-knjižnih ureda i oko 140 katastarskih ureda, a prema kojima državna imovina obuhvata 1.000 jedinica, od kojih je 979 u zemlji i 21 u inozemstvu", kazao je Incko.
Visoki predstavnik ustvrdio je da popis i međuvladin sporazum o raspodjeli državne imovine predstavljaju uslov za tranziciju Ureda visokog predstavnika međunarodne zajednice u ured specijalnog predstavnika EU.
Na listi od 1.000 jedinica, što uključuje objekte i zemljište, nalazi se i imovina koja je privatizovana ili na kojoj su izgrađeni objekti.
"Nismo ulazili u odlučivanje kako će to biti riješeno. Vjerujem da će politički lideri u BiH postići pragmatičan dogovor o raspodjeli imovine koji će biti miks funkcionalnog i teritorijalnog principa. To je, dakle, odgovornost domaćih političara jer smo mi uradili samo tehnički dio posla", istakao je Incko.
Kemal Arnautović, konsultant OHR-a koji je radio na prikupljanju podataka o državnoj imovini, naglasio je da zasigurno sva imovina nije popisana jer, primjerice, JNA je gradila zgrade za svoj kadar, a koje imaju i poslovne prostore.
"Neki od ovih poslovnih prostora nisu upisani u zemljišne knjige pa ih nismo mogli ni popisati. Vjerovatno postoji i neka druga imovina koja nije evidentirana pa se ne nalazi na spisku. Na primjer, u rafineriji nafte i ulja nalazili su se i objekti saveznih robnih rezervi, koji su upisani kao državna imovina, ali su dio kompleksa koji je privatiziran", pojasnio je Arnautović.
Orginalna dokumentacija o državnoj imovini danas će biti dostavljena Vijeću ministara BiH. Kopije će biti proslijeđene entitetskim i Vladi distrikta Bčrko, dok će elektronska verzija biti postavljena na internet portal OHR-a.
"Sada kad imamo podatke o imovini i kada bude riješeno pitanje vlasništva, mnogi od ovih objekata postat će atraktivni za ulaganje. Imamo kasarne koje se prostiru na 74.000 kvadratnih metara i koje se mogu prenamijeniti", kazao je Incko.
Nikola Špirić, predsjedavajući Vijeća ministara BiH, koga je visoki predstavnik upoznao s okončanjem procesa popisa imovine, kazao je da postoje otpori da država napravi spisak imovine koja joj je potrebna.
"Potrebno je postići sporazum o raspodjeli imovine kako bi bili ispunjeni uslovi za tranziciju OHR-a, a za sve to potreban je i politički dogovor. Neophodno je ispuniti preostale uslove za tranziciju OHR-a u EUSR kako bi poslali poruku da je BiH zrela, demokratska zemlja i da može biti kredibilan partner na evropskom putu", istakao je Špirić.
Zgrada koju iznajmljuje SDP državna imovina
Valentin Incko kazao je kako BiH danas plaća ogromne iznose za iznajmljivanje prostora, a možda je vlasnik nekih od tih prostora. Među imovinom koja je državno vlasništvo je i zgrada u kojoj su u Sarajevu smješteni Vlada FBiH, a na koju pravo polaže SDP BiH.
Vlada plaća najamninu SDP-u za imovinu koja je državna, a u OHR-u nisu željeli govoriti o načinu na koji će biti riješeni slični imovinski sporovi.