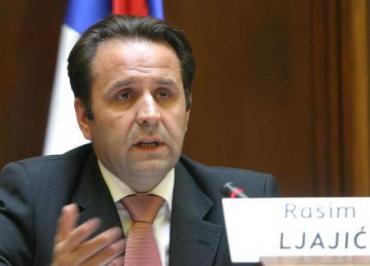 It is obvious that Ratko Mladić is still hiding well and successfully, and that he can postpone his extradition in this way, says Rasim Ljajić.
"If the services continue to work in this way, the arrest of Mladić cannot be avoided," he said, and added that he could not specify "when this will happen".
"The only thing I can say is that I believe that the services will continue to work to their maximum. This year they worked to their maximum, and more than this can hardly be done."
Ljajić, who is labor minister, leader of the SDPS party, and head of the National Council for Cooperation with the Hague, recently resigned as one of the coordinators of the Action Team set up to arrest Mladić – the former military leader of Bosnia's Serbs, wanted on charges of genocide and war crimes by the Hague Tribunal.
Ljajić's resignation came as his estimate that Mladić would be arrested by the end of 2009 did not materialize.
But he now says the Action Team "has an idea" where the fugitive is hiding.
"We have an idea, but we cannot speak about that idea. We also have a plan, and information that we are completing. But, sometimes it is relevant for a while, and then something denies it, brings it down like a house of cards," Ljajić was quoted as saying.
The arrest of the former Bosnian Serb general, he added, will always be a condition for Serbia's EU integration.
"He's already a condition. We in effect got an interim solution, the interim trade agreement was unblocked, but not the SAA. Again, we have a half-way solution because of Mladić."
Ljajić spoke about internal politics for the newspaper, saying that he does not see "what could set off new elections now", but adding that he would not be surprised if there was early voting for parliament, reminding that "we in Serbia have only had one government that lasted its four-year mandate".
Asked whether a new block is currently being formed around the opposition Serb Progressives (SNS) – who are neck and neck in the polls with the ruling Democrats (RS) – he said that Serbia "will not have a two-party system, as is often being said".
"It is realistic that one group will gather around DS, and the other around SNS. In the next elections, one of these two parties will be the leading group to form the government, and then they will change places. I don't think that's a bad thing," said Ljajić, and noted he "sees himself" in the DS camp.