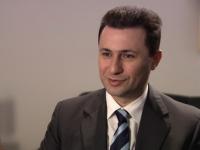 Skopje will continue seeking a solution to its name dispute that does not violate the state and the national interests of Macedonia's nationals, Macedonian PM Nikola Gruevski said.
In cooperation with the UN name mediator Matthew Nimetz and through direct contacts in the upcoming period, Macedonia will try to reach a solution, he said.
"We are aware why Macedonia was blocked in Bucharest and Brussels, i.e. NATO and EU. We are focused on this", Gruevski stated.
However, he stated that the country should not be rushed into accepting anything because the name issue is complicated. "This solution should not violate our state and national interests" Gruevski underlined.
Skopje and Athens are locked in an 18 year-long row over the use of the name Macedonia. Athens insists that Skopje's constitutional name, Republic of Macedonia implies territorial claims towards its own northern province also called Macedonia.
Last month Greece blocked Macedonia from getting a start date for EU accession talks citing the unresolved bilateral issue. In 2008, Greece also vetoed NATO's invitation for Macedonia to join the Alliance.
The EU has given both countries six months to resolve the dispute before once again discussing Macedonia's EU accession negotiation start date.
Nimetz has not yet summoned another round of name negotiations, but media speculate that he may soon do.
While there has been no official information of what was said during past negotiations, media have cited officials saying that a compromise could be reached using the name Northern Macedonia. However, the scope of its usage continues to be disputed, with Skopje insisting that the identity of its nationals and the language spoken continue to be known as Macedonian in all fora.
In his first statement on the issue in the New Year, the Greek Prime Minister George Papandreou said that Macedonia and Greece must meet half way to reach a solution.