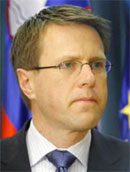 European Union should encourage solving open issues between Western Balkan countries, Slovenian Foreign Minister Samuel Zbogar said last night in Paris.
He pointed the recent border issue settlement between Slovenia and Croatia. The two countries made a great step forward by signing the arbitrage agreement.
Zbogar pointed out that Western Balkan countries deserve special attention and becoming European member states is the hope for stability and prosperity in the region.
"The chances for becoming NATO and EU member state are driving force for implementing reforms in the Western Balkan countries", Zbogar added and pledged to organize new conference at the Balkans.
Zbogar met with his French counterpart Bernard Kouchner in Paris.
The two ministers discussed on strategic partnership between the two countries, the situation in the East and Afghanistan.