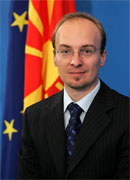 Macedonian Foreign Minister Antonio Milososki kicked off his two-day visit to Slovenia.
FM Milososki is scheduled to open the offices for the new Macedonian embassy in Ljubljana late today. On Tuesday he is scheduled to meet his Slovenian counterpart Samuel Zbogar.
FM Milososki's visit follows, ten days after the visit of Slovenian Prime Minsiter Borut Pahor to Skopje.