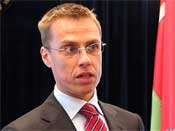 Finland's Foreign Minister Alexander Stubb will pay official visit to Macedonia on Tuesday.
The FM Stubb is scheduled to meet with his counterpart Macedonian FM Antonio Milososki and Macedonian President Gjorge Ivanov.
The two ministers will discuss the bilateral relations between the two countries, Macedonia's bid for EU membership as well as the multilateral cooperation between the two countries.