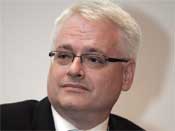 Croatian President-Elect Ivo Josipovic reiterated that he regretted that his Serbian counterpart, Boris Tadic, would not attend his inauguration, which is scheduled for February 18.
Josipovic said that he had "extended a hand to Serbia, hoping it would be accepted by Tadic."
However, Tadic decided not to attend the ceremony because Kosovo President Fatmir Sejdiu will be in attendance and Belgrade believes that Tadic's presence would suggest that Serbia was indirectly recognising Kosovo's independence. Kosovo Albanians unilaterally declared independence from Serbia two years ago; Belgrade dismisses the declaration as an illegal act of secession.
Josipovic has called Tadic's decision "irrational", stressing that Kosovo should not be a measure of Serbia's relations with other countries and that "Serbia will sooner or later have to face the fact that some countries have recognised Kosovo's independence."
The inaugural ceremony starts Thursday at noon in the Square of St. Mark in Zagreb. Nine heads of state have already confirmed their presence at the ceremony. The guests include the leaders of Slovenia, Hungary, Bosnia and Herzegovina, Poland, Slovakia, Bulgaria, Macedonia, Albania and Kosovo.