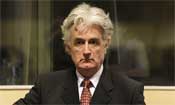 Former Bosnian Serb leader Radovan Karadzic asked on Monday (February 15th) that the UN war crimes tribunal force Germany, France, Croatia and Iran to give him documents related to arming Bosnian Muslims during the 1992-1995 Bosnian conflict.
Representatives of these countries said they have already submitted the requested documentation, though some of it is irrelevant to the proceedings or involves national security.
During a conference at The Hague, Karadzic insisted that these countries and the United States supplied Bosniaks with arms, in violation of a UN embargo. The court will discuss Karadzic's request and decide whether to order the countries to hand over the documents.