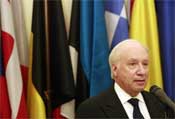 UN special envoy on the name dispute between Macedonia and Greece, Matthew Nimetz, arrived in Macedonia on Tuesday for a new round of consultations with the country's top officials.
"I expect a lot," mediator Nimetz said, adding that he is doing his outmost to help resolution of the dispute.
Mediator Nimetz will be holding talks with Macedonia's Foreign Minister Antonio Milososki and President Gjorge Ivanov.
On Wednesday, Nimetz is slated to meet Macedonian Prime Minister Nikola Gruevski.