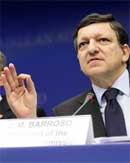 European Commission President Jose Manuel Barroso has congratuled Bulgarian President Georgi Parvanov on his activeness for bolstering the EU.
Barroso and Parvanov met in Brussels Tuesday night, after the Bulgarian President met with EP head Jerzy Buzek and EU Council President Herman Van Rompuy earlier in the day.
The EC President said, as cited by the BNR, that Parvanov was among the first EU leaders who were active in favor of the new EU development strategy "2020."
Bulgaria's President has in turn thanked Barroso for his support for Parvanov's idea that Bulgaria should become EU's regional hub in Southeastern Europe coordinating the Union's efforts to integrate the Western Balkans.
Barroso has reminded that as early as 2008 he had pointed to Bulgaria as the possible pillar of a stable and strong region, and that this was more valid today than ever before.
He also announced that in the coming weeks the EC was going to approve the funding it pledged a year ago after the Russia-Ukraine gas crisis for connecting Bulgaria's gas transit network with those of its neighbors Greece and Romania.
EUR 45 M will be allocated by the EC for the gas connection between Bulgaria and Greece, and another EUR 9 M for the connection between Bulgaria and Romania.
Barroso reminded that these two projects are among the 44 projects similar projects approved by the EC including the Nabucco gas transit pipeline, which is to go through Bulgarian territory.