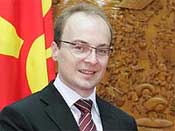 Macedonian Foreign Minister Antonio Milososki will be heading to Pristina on Monday upon an invitation of Kosovo's Foreign Minister Skender Hiseni.
Besides the talks with his host Hiseni, Milososki will meet with President Fatmir Sejdiu and Parliament President Jakup Krasniqi. Milososki will make an address to Parliament's Foreign Policy Committee.
During the stay in Kosovo, Milososki will attend a ceremony to mark the opening of the new premises of Macedonian embassy in Pristina. He will meet with representatives of Macedonian-Goran community in Kosovo.