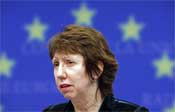 Catherine Ashton, the EU's recently-appointed foreign policy chief noted in her ordinary report the political situation in Bosnia and Herzegovina is getting worse.
Very small development is made under key reforms, especially under the main five aims and conditions of the Peace Implementation Council and the Office of the High Representative in Bosnia and Herzegovina, Ashton emphasized.
According to her the situation is getting worse, especially the communication between the political leaders. Republika Srpska continues being key problem and the Dayton Agreement is questioned more frequently.