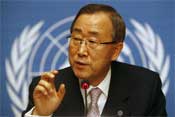 UN Secretary General Ban Ki-Moon said that he is concerned over Priština's new policies towards northern Kosovo.
He called on the Kosovo Albanian government to "carefully implement" its new strategy for that part of the territory, which has a majority ethnic Serb population.
"I am concerned because of the possible increase of tensions in northern Kosovo if the government in Priština does not implement its strategy in a transparent manner, and in dialog with local communities and other relevant sides," Ban said in his report to the UN Security Council.
According to reports from the UN headquarters by Spanish agency EFE, Ban called on all sides to adopt "practical measures" in efforts to bring the Albanian and Serb communities in Kosovo closer.
"The long-term stability and development in Kosovo and the region depends on the success of the reconciliation process between the communities," he stated.
In his report, Ban congratulated Serbian President Boris Tadić for the support for reconciliation he voiced during his visit to northern Kosovo in January, said the report.
He said that the "sensitive issues" relating to northern Kosovo "can be solved only in a peaceful way and through consultations and coordination between all relevant sides".
Ban also wrote in his report that the UN mission in Kosovo (UNMIK) was not consulted in drafting and implementing the new policies for northern Kosovo, which the Serb side rejected and sees as a provocation.
The plan to bring the northern areas under Priština's control was announced by the Kosovo Albanian government and the International Civilian Office (ICO), and was rejected by Belgrade, but also by UN Security Council permanent member Russia.
As for the security situation in the province, Ban said in his report that it was "still relatively peaceful, but fragile". He noted recent cases of violence and murder.
Ban stated that UNMIK, whose mission it is to maintain security, stability and the respect of human rights in Kosovo, would continue to perform its role as a mediator between various sides in order to find solutions to practical problems, without solving the status question.
He noted however that "talks regarding practical preparations for reaching full functionality for courts and customs in northern Kosovo have not progressed, but the consultations between Priština and Belgrade are continuing".
Ban concluded that no progress had been made in solving the issue of supplying electricity to Serb enclaves in Kosovo.