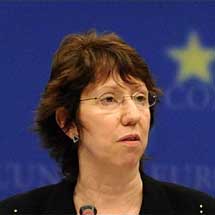 EU High Representative for Foreign Affairs and Security Policy Catherine Ashton will pay an official visit to Belgrade where she is set to meet Serbian top officials.
She will discuss with Serbian President Tomislav Nikolic, Prime Minister Ivica Dacic and First Deputy Prime Minister Aleksandar Vucic.
Ashton's visit to Serbia depended on the results of earlier talks on Thursday with Kosovo Prime Minister Hashim Thaci and President Atifete Jahjaga.
They discussed about  Belgrade's request to form a community of Serb municipalities in Kosovo.