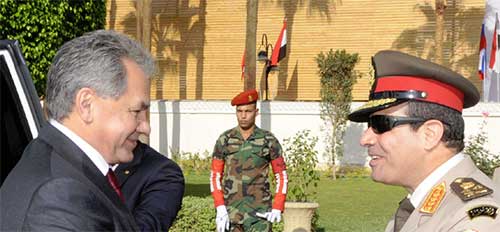 Russia and Egypt have agreed to boost their military and economic cooperation during a high level meeting in Moscow.
The meeting between Egyptian President-hopeful Abdel Fattah al-Sisi and Russian Defense Minister Sergei Shoigu confirmed both sides' interest to strengthen military relations.
"Military cooperation between Russia and Egypt should have a practical and firm legal base. This is conditioned by common challenges and threats for our countries and the fight against terrorism is the primary priority", Shoigu said after the meeting.
During the meeting, the parties discussed concrete measures of mutual interest, such as projects on exchanging delegations, holding joint exercises and training Egyptian servicemen in Russian military academies.