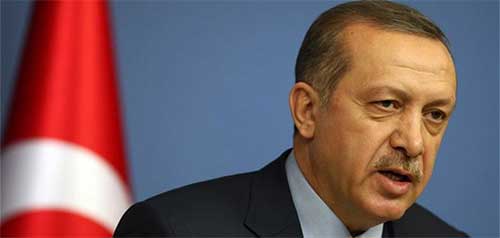 President Recep Tayyip Erdoğan again insisted on the declaration of a no-fly zone inside Syria as the Turkish government considers how to be a part of a US-led coalition against the Islamic State of Iraq and the Levant (ISIL).
Turkey said it will take measures, including military steps, in the fight against ISIL in what appears to be a policy shift toward the extremist group that came after the release of 49 personnel seized by the extremist group at Turkey's consulate in Mosul in June.
But details regarding the Turkish involvement in anti-ISIL efforts are scarce. Ankara insists that the blame for the rise of extremist groups such as ISIL should be placed on Syrian President Bashar al-Assad's regime.
Erdoğan said the declaration of a no-fly zone and a secure zone in Syria is a priority for Ankara, which now is now studying what steps to take in the fight against ISIL. Speaking upon his return to Turkey from the US, where he attended this year's UN General Assembly meeting, Erdoğan said Turkey's security authorities will have talks on the matter and decide on the proper measures.