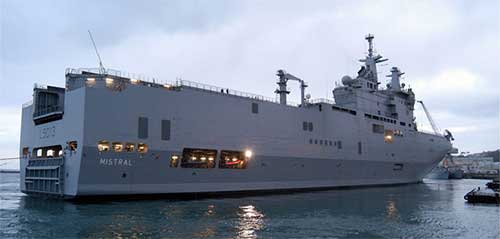 French Finance Minister Michel Sapin on Thursday said the conditions had not yet been met to deliver the first of two controversial Mistral helicopter carriers to Russia, rejecting reports that Moscow would receive the first of them on Nov. 14.
Speaking about the conditions that need to be met, Sapin said, "In Ukraine we are in a situation that is becoming more normal, that allows for things to calm down."
On Wednesday, Russian Deputy Prime Minister Dmitry Rogozin said Russia had received an invitation to retrieve the first of two French warships next month, despite tensions that have tainted relations between Moscow and Western powers over the Ukrainian crisis.
However, on Tuesday, French Defence Minister Jean-Yves Le Drian said Paris would wait until next month to decide whether to deliver the first of the two vessels.
After pressure to suspend the 1.2-billion-euro (about 1.5 billion U.S. dollars) deal amid escalating violence between Kiev and pro-Russian separatists, French President Francois Hollande in September decided to halt the delivery of the Mistral warship to Russia. The decision was based on a worsening situation in Ukraine despite diplomatic efforts to end the month-long crisis peacefully. (1 euro = about 1.26 U.S. dollars)