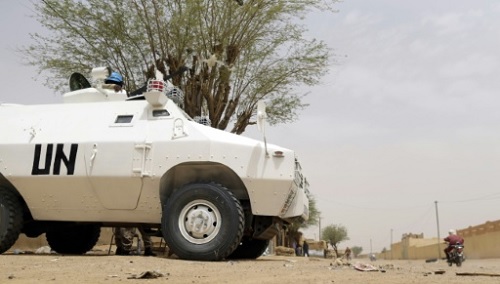 Two Chadian peacekeepers in Mali, a head of unit and a military doctor, were killed Thursday in Kidal (north-east) by another soldier who complained about their living conditions within the quota, according to a security source within the UN Mission in the country (Minusma).
The source initially told AFP that a leader Chadian peacekeepers had been killed and another whose identity was not revealed, wounded by a "mutineer" soldier.
The wounded "just give up the ghost," said the source, adding that this is a military doctor. "So these are two people who were killed. The mutinous soldier is arrested. It will be transferred tomorrow (Friday) "in Bamako, she continued, saying ignore if he would remain or be returned to Mali to Chad.
"A few dozen Chadian peacekeepers are unhappy for some weeks of their living and working in northern Mali," he still said the same source.
Before the death of the wounded military doctor, another source of security for the Minusma had reported to AFP that Chadian peacekeeper was killed by one of his countrymen disagree with his superiors.
"The mischievous Chadian peacekeeper has not supported the observations of his superior who accused him of serious things. Encouraged by his friends, the peacekeeper led a slingshot, a small mutiny against the hierarchy since Wednesday evening and on Thursday, he killed a Chadian commander in Kidal ", said the source.
"Everyone knows that the Chadians (the Minusma) complained about their living conditions," said AFP elected Kidal who spoke under condition of anonymity.
Moreover, the tension was "lively" Thursday in the Chadian contingent in Tessalit, north of Kidal, where a dozen soldiers were arrested by the hierarchy for "indiscipline," said the second source of security for Minusma, without giving the reasons for the tension.