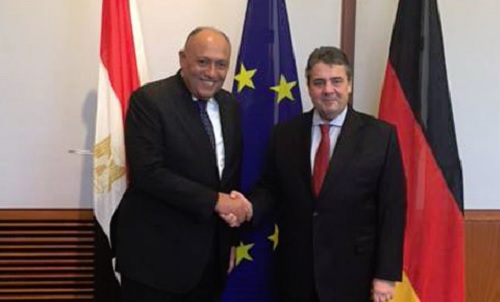 Egypt's foreign minister Sameh Shoukry discussed on Thursday with Germany's vice chancellor Sigmar Gabriel the latest economic and social developments in Egypt and the region, according to a statement by the Egyptian foreign ministry.
Shoukry, who started a two-day visit to Germany on Wednesday, shared with Sigmar updates on economic reforms recently adopted by the Egyptian government, the statement read.
Shoukri also discussed with Sigmar Egypt's controversial new law regulating the work of NGO in the country, which has been passed by parliament but not yet ratified by the president, stressing that Cairo supports a strong role for non-governmental organisations in social and economic development.
The Egyptian FM also told the vice chancellor that the recent presidential pardons to dozens of prisoners convicted on breaking the protest law show that the Egyptian government is committed to safeguarding freedoms.
Sigmar explained at length to the Egyptian FM that Germany and Europe face a challenge to confront the threat of terrorism and radical ideologies in the continent, the statement read.
The Egyptian foreign minister shared with Sigmar Egypt's own efforts in fighting radicalism and reforming religious discourse.
During the meeting, Shoukry expressed wishes that Egypt's partners in Europe, including Germany, appreciate what Egypt has achieved in its democratic transition and the war against terrorism.
Germany's vice chancellor Gabriel assured Shoukri that Germany would fully support Egypt during this important phase in its history and would continue to provide economic support to Egypt.