Quntar Calls Ahmadinejad's Stance Inspiring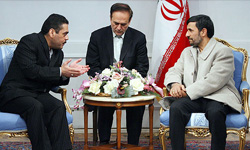 TEHRAN (FNA)- Samir Quntar, a Lebanese who served the longest term in Israeli prisons, described Iranian President Mahmoud Ahmadinejad's stance inspiring for the Lebanese resistance.
Speaking in a meeting with the Iranian president here in Tehran on Monday, Quntar said, "Your (Ahmadinejad's) stance and persistence in different issues doubles our will for resistance and fulfillment of our duties."
He also expressed delight in his meetings with Iranian officials during the trip to Iran.
The Iranian president, for his part, noted that the world situation has changed during the past 30 years, and said he is sure the time for the collapse of the corrupt powers has arrived.
Ahmadinejad also stressed that the Zionist Regime's rationale is based on massacring Palestinians, and reiterated, "Today, they (the Israelis) themselves know that they have no reputation among the world nations, and they are just struggling to prolong their existence for a few days more."
The Iranian president added that even supporters of the Israeli regime today are well aware of the imminent collapse of the Zionist regime.
He also said that the Lebanese resistance group, Hezbollah, is a source of light and hope for all those seeking freedom and independence in the world, saying, "Today, all freedom-seekers in the region and the world are proud of Seyed Hassan Nasrallah (Hezbollah Secretary General)."
You can follow any responses to this entry through the
RSS 2.0
feed.
Responses are currently closed, but you can
trackback
from your own site.
//php comments_template(); ?>