Assad approves new government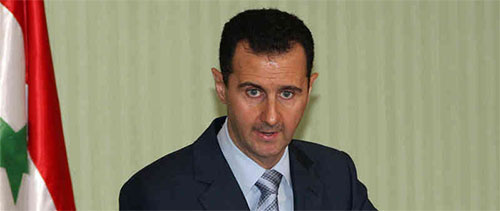 Syrian President Bashar Al-Assad on Wednesday issued Decree No. 273 endorsing the formation of the new government led, by Prime Minister Dr. Wael Nader al-Halaqi.
The 34-member lineup includes 21 ministers who got their terms in office renewed including the sovereign portfolios, according to SANA news agency.
Following is a list of the cabinet members: General Fahed Jassem al-Freij – Minister of Defense, Walid al-Moallem – Deputy Prime Minister, Foreign and Expatriates Minister, Omar Ibrahim Ghalawanji – Deputy Prime Minister for Services Affairs, Minister of Local Administration, Dr. Mohammad Abdelsattar al-Sayyed – Minister of Religious Endowments, Mansour Fadlallah Azzam – Presidential Affairs Minister, Lt. Gen. Mohammad Ibrahim al-Sha'ar – Interior Minister, Imad Mohammad Deeb Khamis – Electricity Minister, Dr. Hazwan al-Waz – Education Minister, Omran Ahed al-Zoubi – Information Minister, Najm Hamad al-Ahmad – Justice Minister, Hussein Arnous – Public Works Minister, Ahmad al-Qadiri – Agriculture and Agrarian Reform Minister, Sleiman al-Abbas – Petroleum and Mineral Resources Minister, Dr. Ismail Ismail – Finance Minister, Dr. Kinda al-Shammat – Social Affairs Minister, Kamal Eddin Taameh – Industry Minister, Bishr Riyad al-Yazigi – Tourism Minister, Dr. Humam al-Jazaeri – Minister of Economy and Foreign Trade, Dr. Mohammad Amer Mardini – Higher Education Minister, Dr. Mohammad Ghazi al-Jalali – Communications and Technology Minister, Dr. Kamal al-Sheikha – Water Resources Minister, Dr. Hassan al-Nouri – Administrative Development Minister, Mohammad Walid Ghazal – Housing and Urban Development Minister, Dr. Khalaf Sleiman al-Abdullah – Labor Minister, Dr. Ghazwan Kheir Bek – Transport Minister, Dr. Nizar Wehbe Yazigi – Health Minister, Hassan Safiye – Internal Trade and Consumer Protection Minister, Issam Khalil – Culture Minister, Dr. Ali Haidar – State Minister for National Reconciliation Affairs, Dr. Nazira Serkis – State Minister for Environment Affairs, Abdullah Khalil Hussein – State Minister, Jamal Shaaban Shahin – State Minister, Hassib Elias Shammas – State Minister, And Dr. Mohammad Muti'a Moayyad – State Minister.
You can follow any responses to this entry through the
RSS 2.0
feed.
Both comments and pings are currently closed.
//php comments_template(); ?>