Burkina: the coup ended, the army remains divided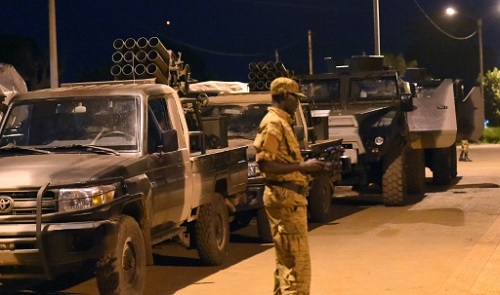 With the failed putsch of September 17 in Burkina Faso, the army was a huge earthquake that led to the dissolution of the elite unit coup and the emergence of a young guard who forced the hand to Staff for keeping the army on the side of the people.
An image was particularly symbolic of the crisis that saw the Presidential Security Regiment (RSP), a former praetorian guard of Blaise Compaoré, chased by the street after 27 years in power in October 2014, an attempt to derail the transition. September 22 evening, four officers and a loyalist officer RSP signed at the Mogho Naaba, King of the Mossi, the largest ethnic group in Burkina Faso, an "agreement to avoid confrontation" that sounded the death knell of the coup.
At the exit, a loyalist officers put his arm on the shoulders of Abdul Aziz Korogo commander of RSP to comfort him and the two men walking side by side entwined have disappeared into the night around the dimly lit palace. The two soldiers are "promotionnaires" from the Kadiogo Military Prytanée, known PMK, which forms Burkinabe officers.
Commanders body responsible for the failure of the coup are also mostly "promotionnaires" PMK which the hymn says: "It was the place where the nation placed strong men and conscience."
Spread across the country, these officers have communicated with each other and decided to refuse the shot so that the heads of military regions and headquarters remained in an awkward neutrality.
Of course, the army of 13,000 men, has not suppressed the province where demonstrations mobilizing people has been particularly strong in Bobo Dioulasso second city, but high-ranking entangled in respect of the chain command – some of which have gone through the RSP or are friends with their members – chose the attitude "of wise monkeys" (hear nothing, see nothing, say nothing), according to a security source. "It was the great dumb".
You can follow any responses to this entry through the
RSS 2.0
feed.
Both comments and pings are currently closed.
//php comments_template(); ?>