Algeria: Political agreement, only solution for Libyan crisis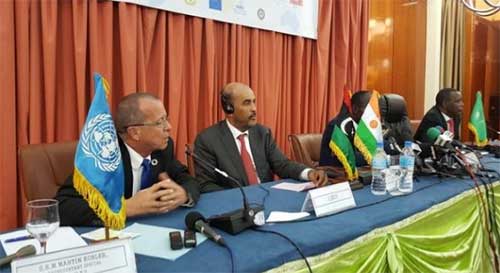 Libya's neighboring countries recalled, after their ministerial meeting Wednesday in Niamey, Niger, that the Libyan political agreement is the only framework to end the crisis in Libya.
The participants at the 9th ministerial meeting of the neighboring countries of Libya reaffirmed commitment to the political settlement parameters as defined in their previous meetings, including the one held on December 1st, 2015 in Algiers.
They reaffirmed their "commitment to the crisis settlement parameters as defined in their previous meetings and backed by the international community, notably the Council security in its resolution S / RES / 2259 (2015) on 23 December 2015."
Moreover, they expressed "deep concern" over the continued deterioration of the security situation in Libya and voiced their solidarity with the Libyan people.
In their statement, the Ministers representing Libya's neighboring countries have also noted that the "expansion of terrorist groups and their related activities linked to organized crime is a threat to security and stability in the region, so it is necessary to counter them effectively."
You can follow any responses to this entry through the
RSS 2.0
feed.
Both comments and pings are currently closed.
//php comments_template(); ?>