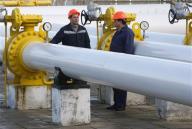 MOSCOW/KIEV (Reuters) – The Russian and Ukrainian prime ministers plan to meet in Moscow on Saturday to try to resolve a gas row that has cut supplies to a freezing Europe.
A minister of the Czech Republic — current holders of the rotating presidency of the European Union — said there had been "irreparable, irreversible damage done" to customers' confidence in Russia and Ukraine, "even if they turn on the taps tonight."
Supplies to 18 countries are affected, forcing factories to close and leaving householders shivering in bitter winter cold.
Slovakia said on Thursday it would have to reduce supplies even to heating plants and cut off big industrial users unless Russian gas started flowing via Ukraine again by February.
There was little enthusiasm in Brussels for a separate Moscow meeting with importers proposed by Russian President Dmitry Medvedev. But the EU executive said it and the Czechs would attend if Russian and Ukrainian leaders were there too.
An EU-brokered deal was supposed to get supplies of Russian gas moving to Europe via Ukraine on Tuesday despite the pricing dispute between Moscow and Kiev. EU monitors are in place to ensure Ukraine does not siphon off gas, as Moscow has alleged.
A source familiar with the work of the monitors said Russia was providing gas on Thursday, but in a way that made its successful delivery to Europe difficult. Ukraine refused to let the gas through what it said was the wrong route.
"EU monitors are clearly seeing Russia is not supplying enough gas into the pipeline and clearly choosing the most difficult route and not using multiple routes as is necessary," the source told Reuters in Brussels.
The monitors confirmed no gas was flowing from Russia to Europe via Ukraine.
The European Commission said all conditions had been met for Russia to resume gas supplies and for Ukraine to begin transporting it to Europe again, but did not apportion blame.
Vladimir Putin's spokesman said the Russian prime minister would meet Ukrainian counterpart Yulia Tymoshenko on January 17, after returning from talks with Chancellor Angela Merkel in Berlin on Friday.
Frustration is growing in the EU at the failure of Russia and its former Soviet vassal Ukraine to resolve the row over how much Kiev should pay Moscow for gas, or at least allow gas to flow to Europe while they argue it out.
"It is clear today, even if they turn on the taps tonight and gas starts to flow, there has been irreparable, irreversible damage done, a loss of confidence in both Russia and Ukraine," Czech Industry and Trade Minister Martin Riman said.
"I think there is a risk that confidence in Russia could be lost in the long run," Merkel told a news conference in Berlin with British Prime Minister Gordon Brown.
The International Energy Agency said Russia had lost its status as a reliable gas supplier to Europe.
BID TO DIVIDE EU?
Brussels is concerned the meeting proposed by Medvedev in Moscow could be an attempt to divide the bloc, which has so far been relatively united on the issue.
The European Commission said, however, it had proposed that EU Energy Commissioner Andris Piebalgs and Czech minister Riman go to Moscow to represent the EU.
The European Union imports a fifth of its gas from Russia via Ukraine. The crisis has highlighted its vulnerability to disruption and sparked a new debate about diversifying supplies.
The row takes place against a backdrop of strained political ties between Moscow and Kiev. Russia is angered by the ambition of Ukraine's leaders to join the NATO alliance, and by their support of Tbilisi during the Russian-Georgian war in August.
Ukrainian President Viktor Yushchenko flew to London where he was due to hold talks with British Prime Minister Gordon Brown later on Thursday, a spokesman for Brown's office said.
Russia's Gazprom gas export monopoly said it had again asked Ukraine to transit some 99 million cubic meters of gas to Europe on Thursday, as it did on the previous two days. It said Kiev again denied access.
Ukraine says Russia is deliberately seeking to ship gas through Ukraine via a route that is being used to send Ukrainian reserves of gas the other way — to the east of Ukraine.
Gazprom has been using routes through other countries to increase exports to Europe but its total supplies are still half the usual winter export volumes.
Moscow is seeking a sharp rise in the prices Ukraine pays for its own gas supplies. Ukraine is reeling from a severe economic downturn, with output in the key steel sector falling 43 percent in December compared with December 2007.
Medvedev proposed that a consortium of energy importers provide Ukraine with the "technical gas" needed to ensure the right pressure to resume deliveries to Europe, the Kremlin said.
Paolo Scaroni, chief executive of Italy's ENI, one of dozens of energy firms worried by the disruptions, discussed the consortium idea with Putin on Thursday.