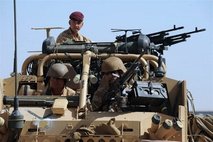 KABUL  – The US military said on Friday that Afghan and international troops had killed 30 militants in Afghanistan's province of Helmand, a flashpoint region where the Taliban control several districts.
The heavy clash on Thursday was in the Gereshk district where a prominent anti-Taliban parliamentarian was killed in a bomb planted by the insurgents the same day.
The Afghan army had led a patrol of soldiers into an area where militants were known to operate, the US military said in a statement.
"The patrol was attacked by numerous armed militants with heavy small-arms and rocket-propelled grenade fire," it said.
After ensuring there were no civilians present, "the combined element returned fire with small-arms and close air support, killing 30 militants," it said.
There was no way to independently verify the toll.
"This engagement was yet another blow to the militants, who are quickly losing their ability to operate in Helmand Province," a coalition spokesman said in the statement.
"The Afghan National Army is working to rid Afghanistan of extremists who are only trying to destabilise the country and sabotage Afghan freedom," the official said.
Earlier Thursday, key anti-Taliban lawmaker Dad Mohammad Khan was killed with three of his bodyguards and a senior policeman when a bomb tore through their vehicle in Gereshk. The Taliban claimed responsibility for the blast.
The killing took to 10 the number of MPs who have died in attacks since they were elected in Afghanistan's first democratic parliamentary vote in 2005.
The Taliban were themselves in government between 1996 and 2001 and are leading a brutal insurgency against the current Western-backed administration in a spiralling conflict.