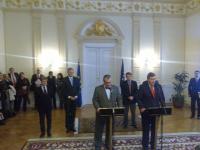 The European Union is "scared" by the situation in Bosnia and Herzegovina and concerned the country is lagging behind the rest of the region, the Czech Foreign Minister said.
The message came at the end of the two-day visit of Czech, French and Swedish foreign ministers – Karel Schwarzenberg, Bernard Kouchner and Carl Bildt – to the Bosnian capital. The three ministers leave Sarajevo on Thursday, after their visit, aimed at showing renewed European determination to end Bosnia's political deadlock. 
"The situation in Bosnia and Herzegovina is complex, with strong distrust among leaders of the three constituent peoples which triggers tensions and hampers advancement of the country," Kouchner said in an interview published by Banja Luka daily Nezavisne Novine on Thursday.
"We are a bit scared about the developments in the last years where Bosnia and Herzegovina is lagging behind in its development behind the neighboring states," Schwarzenberg told a press conference on Wednesday night, after the three ministers met Bosnia's tripartite presidency.
"We all wish to have Bosnia and Herzegovina as a member of the EU in the foreseeable future, but of course there is a bit of conditionality. The conditions have to be met," the Czech Foreign Minister added.
The Czech Republic currently presides over the EU, while Sweden will take over that role from July 1. France is one of the most influential countries in EU affairs and is deeply involved in the peace-implementation process in Bosnia.
The three ministers met top local and international officials in Bosnia in another attempt to stop and reverse the worst political crisis since the end of the war.
This situation has led to Bosnia and the rest of the Balkans coming back on the EU and US radars. Over the past ten days Bosnia has been discussed at a series of conferences, round tables, and official and unofficial meetings between some of the top US and EU officials, experts and analysts.
Even US President Barack Obama, at the EU and US summit in Prague on Sunday, urged the EU "not to forget the Balkans". In addition, the Balkans has been discussed at the NATO summit in Strasbourg on Saturday, at the US Institute for Peace, USIP, conference last Friday, and US Congress' Helsinki Commission hearing last Thursday.
Karel Schwarzenberg told journalists that local leaders must undertake "more concrete steps" on the implementation of key reforms and visa-free regime, which could be finalised for most Balkan countries by the end of the year.
"We are convinced that we have friends who really want Bosnia and Herzegovina to become an EU member and who are ready to assist with our concrete steps along that path," the chairman of Bosnia's tripartite presidency, Nebojsa Radmanovic, said after the meeting. "We in Bosnia and Herzegovina have strength to reach compromises and agreements on these key issues."