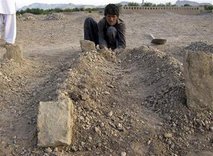 KABUL – Sobbing relatives showed U.S. and Afghan investigators the demolished buildings and graves in two western villages where a local official said Thursday he collected the names of 147 people killed in a disputed incident involving American forces and Taliban militants.
If local reports of the death toll are confirmed, it would be the deadliest case of civilian casualties in Afghanistan since the 2001 U.S.-led invasion that ousted the Taliban regime.
Although the results of the joint U.S.-Afghan investigation were not expected to be announced until Friday, Afghans blamed U.S. bombing raids for the deaths in the villages of Ganjabad and Gerani. In the capital of Farah province, where the fighting took place, some 150 stone-throwing protesters chanted "Death to America" and clashed with police.
The large number of civilian deaths comes at an awkward time for the Obama administration, as it steps up its military campaign here while emphasizing the importance of nonmilitary efforts to stabilize the country. President Barack Obama expressed sympathy over the loss of life in a White House meeting Wednesday with Afghan President Hamid Karzai, who contends that such killings undermine support for the fight against the Taliban.
Defense Secretary Robert Gates, whose two-day visit in Afghanistan was overshadowed by the case, offered a new expression of U.S. regret for the deaths but stopped short of taking blame. U.S. officials maintained that the Taliban might have been responsible for at least some of the deaths.
"We regret any, even one, innocent civilian casualty and will make whatever amends are necessary," Gates said Thursday during a visit to the war zone. "We have expressed regret regardless of how this occurred."
There has been no official death count, either from the Americans or the Afghans, from the fighting in the Bala Buluk district Monday night and Tuesday.
Abdul Basir Khan, a member of Farah's provincial council who said he helped the joint delegation from Kabul with their examination Thursday, said he collected names of 147 dead — 55 at one site and 92 at another. Khan said he gave his tally to the Kabul team.
He said villagers told investigators that many of the dead were buried in mass graves of 20 or so people. Investigators did not exhume the bodies, according to Khan.
Crying family members angrily showed investigators bombed-out buildings and lines of graves.
"They were pointing to graves and saying, 'This is my son, this is my daughter,'" Khan said.
The international Red Cross has said that women and children were among dozens of dead people its teams saw in two villages, where houses lay in ruin following the bombing.
What happened remained a matter of dispute.
U.S. forces ordered airstrikes on Taliban militants after a firefight, but Afghan officials say the bombs killed civilians who were hiding in their homes.
Villagers said they gathered children, women and elderly men in several compounds near the village of Gerani to keep them away from the fighting, but that the compounds were hit by airstrikes.
Three U.S. defense officials, speaking anonymously, said Thursday that it is possible the investigators would find a mix of causes for the deaths — that some were caused by the firefight between the Americans and the Taliban, some by the U.S. airstrike and some deliberately killed by Taliban fighters hoping U.S. bombings would be blamed.
Taliban militants often take over civilian homes and launch attacks on Afghan and coalition forces. U.S. officials say the militants hope to attract U.S. airstrikes that kill civilians, thereby giving the militants a propaganda victory.
U.S. military spokeswoman Capt. Elizabeth Mathias said she did not yet have information on what the investigative team found. A U.S. brigadier general headed the team, along with Afghan military and police officials.
In Washington, Karzai said, without referring directly to the latest controversy, that his country is eager for the U.S. military to find a way to avoid civilian casualties.
"It causes pain to Afghans," Karzai told a Capitol Hill news conference Thursday after meeting with members of the Senate Foreign Relations Committee. "It's something we want to have addressed … in a manner that will eventually — rather sooner — end casualties for the Afghan people."
On Thursday, anger spilled over into the streets of Farah, where protesters tried to storm a government building. Police fired at the demonstrators and pushed them back, said Belqiz Rosha, a provincial council member.
One protester was wounded by a bullet and five more suffered other injuries, said Gul Ahmad Ayubi, a provincial health department official.
The high civilian death toll threatens Karzai's standing with the public ahead of elections in August. Many of those preparing to challenge Karzai have criticized his administration as too weak or too beholden to foreign powers.
At least 18 presidential candidates have registered, including former Finance Minister Ashraf Ghani and former Foreign Minister and Northern Alliance member Abdullah Abdullah. They are considered two of Karzai's stronger challengers. Registration closes Friday.
Meanwhile, in southern Afghanistan on Thursday, a suicide bomber on a motorcycle killed 12 civilians in an attack an international military vehicle, said Daud Ahmadi, a spokesman for the governor of Helmand province. It was not immediately clear if any troops were killed or wounded.