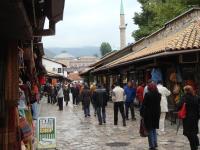 All trade in poultry, live fish and beef between Bosnia and Herzegovina and Croatia has been stopped as the two countries again wage trade wars, media reported on Monday.
The dispute started late last week after Croatia banned imports of these products from Bosnia, citing risks of animal and fish diseases. 
Bosnia retaliated with similar countermeasures. Croatia issued an official complaint over the weekend but Bosnian officials said their measures will stay in place as long as Croatia keeps its intact.
Local experts told Balkan Insight that Croatia's decision might have been a warning to Bosnia not to adopt a law that would protect local producers. The law has been adopted by Bosnia's state parliament in the first reading and is awaiting final confirmation, despite strong protests and warnings from some local officials, the EU and neighbouring countries.
"As soon as Croatia withdraws its measures, we will withdraw ours," Drago Nedic, director of the Bosnian State Veterinary Office, told the media.
Nedic said the issue would be discussed with Croatia's chief veterinarian on Monday, as well as with other Croatian officials this week at the meeting of the World Organization for Animal Health in Paris.
Bosnian officials complained that Croatia has been hampering the import of various Bosnian products for a long time and said it was a high time Bosnia did more to defend local producers. Local businessmen stressed that such trade wars between two neighbouring countries and trade partners were hurting both economies.
In February, Bosnia and Croatia engaged in another trade conflict, after Croatia banned the import of fresh milk from one of the biggest Bosnian dairy exporters. The dispute was quickly overcome after Bosnia slapped a ban on the import of import of milk and dairy products from Croatia.