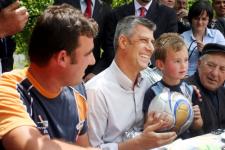 Kosovo's government has earmarked 16,000 euros for the construction of a new house for a Serbian family recently returned to Kosovo, lauding the move as a demonstration of the government's commitment to ensuring that Kosovo is a true home for all of its ethnic groups.
Kosovo's Prime Minister Hashim Thaci and the head of Spasic family, Sasa Rasic, kicked off construction on the new house yesterday with the ceremonial laying of the first cement for the foundation. 
Thaci was then invited to dine with the family in what he described as "a lunch for a new democratic Kosovo, adding that the Spasic family was a perfect example of new life in an independent Kosovo, according to local media reports.
During the luncheon, the 11-member Spasic family related their problems to the prime minister, saying no "we have land, but we don't have a truck to work it."
The youngest child in the family, Milan, presented the prime minister with a football. Thaci responded by saying that "Since your name is Milan, I hope when you grow up you will play for Milan as well."
"I want to thank you for helping me to get back here and to build my house," another family member, Darko Spasic, said, also taking the opportunity to thank his Albanian neighbours for the welcome, Express and Koha Ditore reported.
The Spasic family had sent a request to the government of Kosovo, asking authorities to construct them a new home after having abandoned theirs at the end of the 1999 conflict.
The government agreed to sponsor the building of the house, but it remains unclear whether similar requests in the future would be met, though Thaci pledged to continue the project.
"We are determined to continue with rebuilding projects," reporters quoted Thaci as saying during the lunch.