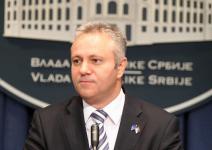 Croatia and Serbia signed an extrensive economic cooperation agreement Wednesday, which will see the two former rivals join regional markets together.
The agreement calls for cooperation in the sectors of shipbuilding, energy, electrical engineering, infrastructure, agriculture, tourism, as well as the food, pharmaceutical, tobacco, chemical and wood industries, news agencies reported.
Though relations between Croatia and Serbia are sometimes tense due to unresolved wartime issues, the global economic crisis is making cooperation a necessity.
Croatian Finance Minister Damir Polancec heralded the agreement, which he said envisaged the establishment of a joint economic committee, which would mean a more intensive cooperation in many areas, Croatian news agency HINA reported.
Serbian Minister of Economy and Regional Development Mladjan Dinkic said cooperation between the two countries was vital for the region, especially amidst the global financial crisis.
Importantly, the agreement will work to synchronize the two countries' regulations with EU standards, which can only help to progress Zagreb's and Belgrade's EU aspirations.
In 2008, trade between Croatia and Serbia amounted to 830 million euros, and the new deal could see that increase exponentially.