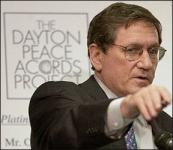 The US State Department is denying any claims by Bosnian Serb wartime leader Radovan Karadzic concerning an alleged deal made with US diplomat Richard Holbrooke for immunity.
The United States State Department has insisted that no agreement was ever made to provide Radovan Karadzic with immunity from prosecution.
"Neither Ambassador Holbrooke nor any United States official was in a postion to offer Dr. Karadzic such immunity, and no such offer was made," said a press release issued by the State Department on June 25.
Radovan Karadzic, the wartime Bosnian Serb leader, indicted for crimes commited between 1992 and 1995, including genocide, claims that in 1996 he made an immunity agreement with the then US Special Envoy for the Balkans, Richard Holbrooke.
Karadzic says that under the agreement he promised to withdraw from public and political life in exchange for immunity from prosecution. He says he and Holbrooke signed the agreement.
Because of this agreement, Karadzic claims, he lived and worked freely for years with a false identity in Serbia, until he was arrested in July last year in Belgrade.
"Dr. Karadzic did sign a statement, the text of which was negotiated in Belgrade on July 18, 1996, by Ambassador Holbrooke and a team of United States government officials with senior Serbian officials at a meeting where Dr. Karadzic was not present. In this statement, Dr. Karadzic pledged to leave office and withdraw from public life. There was no 'quid pro quo'," the State Department statement says.
It goes on to say that the State Department "in the interest of transparency and accuracy" will make public documents "that pertain to the allegation of an immunity agreement and, in particular, demonstrate the lack of an underlaying basis for the assertion."
"As this document shows, the United States Government repeatedly made clear at the time of Dr. Karadzic's agreement to withdraw from public life that it still expected Dr. Karadzic to be tried in The Hague."
Karadzic and his legal team are attempting to prove that an immunity agreement was made and have attempted to call a number of witnesses, including senior international officials.
In order to prove this claim, they have filed a motion with the ICTY citing two statements signed by persons who were allegedly present at a meeting with Karadzic in Pale on July 18, 1996. The motion says that these people can "confirm that he belived that he had been promised by Richard Holbrooke that he would not be prosecuted in The Hague."
The statements are signed by Victor Ben Cnaan, who in 1996 was director of Globe Holdings International, a company registered in Pale, and his co-worker, Punisa Lucic.
Allegedly, on July 18, at 18.00 they were at a meeting with Karadzic when he suddenly left the room.
"When he entered the conference room, he appologized, saying that he has had tough negotiations with Mr. Holbrooke. Dr. Karadzic went on saying that he has agreed to retire from the position of the President of Republika Srpska and the position of party leadership as well as other public and political duties in Republica Srpska."
In the statement they say that Karadzic told them that negotiations were between him, Mr Holbrooke and Slobodan Milosevic.
"In return for his retirement, Mr Richard Holbrooke…provided him with strong guarantees that he would not be prosecuted by any legal court under their jurisdiction, including the International War Crimes Tribunal in The Hague. We asked if these gentlemen could be trusted, and Dr. Karadzic replied that he would never have accepted the deal if he was not presented with truly serious and strong guarantees," said Ben Cnaan in his statement.
Global Holdings International, according to the statement, was working in the Republica Srpska, among other things building an international airport at Sokolac, building a hydroelectric power station on the Drina, building a railway "to connect the RS with the European network", renovating the mine in Milici, rebuilding the oil refinery at Bosanski Brod, and exporting timber.
According to available information, the trial of Karadzic could start by the end of August or the beginning of September this year.