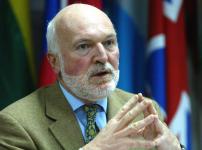 There is no need for a new Ohrid peace accord as the existing one remains vital for the country's stability, prosperity and EU-integration, the EU Ambassador to Macedonia Erwan Fouere said Monday in response to calls for the agreement's revision.
"It has been emphasized on several occasions that Macedonia's road to the European Union leads via Ohrid," Fouere told media. "We shall say once again that it may be done only by an effective implementation of the Ohrid Framework Agreement."
Fouere's statement comes in response to recent calls for a revision of the deal from Menduh Thaci, head of the main ethnic Albanian opposition, the Democratic Party of Albanians, DPA.
There is no doubt that Thaci has noticed shortcomings in the implementation of the Ohrid Agreement in several areas, such as education, Fouere said. If additional efforts are being invested in the agreement's implementation, Thaci's announcements and demands will not be necessary, he added.
The Ohrid Accord was signed by the country's main political factors in the summer of 2001, thus ending the six-months-long ethnic Albanian insurgency.
It envisaged greater rights for ethnic Albanians, who comprise one-quarter of the population, by granting their proportional participation in public institutions and security forces. It also made Albanian a second official language in the areas where they form the majority.
But Thaci now accuses the ruling coalition of the centre-right VMRO DPMNE party and the ruling ethnic Albanian, Democratic Union for Integration, DUI of straying from the Ohrid legacy.
Fouere pointed out that the existing accord has been contributing substantially to the political stability and proved crucial for Macedonia to be granted EU candidate country status as of 2005.