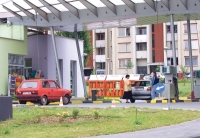 SARAJEVO – Cigarete su od jučer skuplje za 15 odsto, kafa za pola KM po kilogramu, a gorivo deset feninga po litiri, što je rezultat primjene Zakona o akcizama u BiH, potvrdio je Mesud Lakota, sekretar Udruženja potrošača BiH.
Uprava za indirektno oporezivanje BiH jučer nije imala nove cijene, jer ih proizvođači i uvoznici nisu dostavili.
"Stvarnih razloga za povišenje cijena namirnica nema, ali se bojim da će trgovački lobiji uvođenje posebne trošarine na naftu od deset feninga za litar iskoristiti da povise maloprodajne cijene. Sadašenje cijene goriva su na nivou kada je barel nafte bio 130 dolara, što znači da ima dovoljno prostora da ne budu povišene cijene, rekao je Lakota.
Potrošači se, kaže, uglavnom ne bune zbog poskupljenja kafe i cigareta, jer su svjesni da je to luksuz.
"Problem je u mogućem poskupljenju osnovnih životnih namirnica", istakao je Lakota.
Upozorava da će i nedavno usvojeni Zakon o zaštiti domaće proizvodnje BiH izazvati poremećaje na tržištu, jer će proizvodi iz Srbije i Hrvatske poskupjeti, a to bi moglo dovesti i do "tihog" podizanja cijena domaćih proizvoda.
Predrag Gluhaković, ministar trgovine i turizma RS, kaže da će stupanjem na snagu Zakona o zaštiti domaće proizvodnje uvozni proizvodi zbog carinskih nameta poskupjeti između 30 i 70 odsto.
"Sa druge strane, BiH nema kapacitete da može da nadomjesti sve proizvode iz Srbije i Hrvatske koje uvozimo, tako da će najveći udar novim poskupljenjem biti na potrošače", kaže Gluhaković.
Gluhaković naglašava da je kod primjene Zakon o akcizama najvažnije pratiti kako će se poskupljenja nafte za deset feninga odraziti na cijene prehrambenih proizvoda.
"Mi ćemo, poznajući raniju praksu po kojoj bi svi proizvode sada trebalo da poskupe za poskupljenjem goriva za deset feninga, posebno pratiti najnovija poskupljena, pri čemu će se u fokusu naći proizvodi koji se računaju u potrošačkoj korpi, jer su oni od vitalnog interesa za građane", rekao je Gluhaković.
Petar Milanović, predsjednik Udruženja trgovaca BiH, kaže da novi zakon nije donio veće probleme trgovcima.
"Trgovci su čekali na nove poreske markice pa je danas bilo nemoguće kupiti cigarete. Ovi tehnički problemi biće prevaziđeni. Veći problem je Zakon o zaštiti domaće proizvodnje, koji je također stupio na snagu, a koji će uništiti izvoz, jer su Srbija i Hrvatska bili najveći izvozni partneri BiH", rekao je juče Milanović.
U UIO kažu da će se sa starim poreskim markicama cigarete po novim cijenama moći prodavati do početka slijedeće godine, a da će ubuduće markice na svaki novi zahtjev biti štampane s novim cijenama.
Kemal Čaušević, direktor Uprave za indirektno oporezivanje BiH, tvrdi kako prvog dana primjene Zakona o akcizama nisu zabilježeni problemi, osim negodovanja trgovaca zbog prisustva inspektora UIO u prodajnim mjestima.
"Nismo dobili zahtjeve za nove poreske markice za duhan niti od jednog proizvođača ili uvoznika cigareta. Oni mogu prodavati zalihe koje su morali popisati, ali moraju i platiti razliku u visini akcize. Problema s markicama za kafu ne bi trebalo da bude, jer je ostavljen prelazni period od tri mjeseca u kojem trgovci kafu mogu prodavati bez markica", objasnio je Čaušević.
Nove cijene
Fabrika duhana Sarajevo (FDS) formirala je nove cijene cigareta, koje važe od jučer. Kako se navodi u saopćenju FDS, nove cijene cigareta su: aura ekstra, lajts, superlajts 2,5 KM, rojal lajts, blu dvije KM, drina lajts, superlajts, zlatna, bijela dvije KM, zatim cigarete marke 8, 1,8 KM, kod 1,5 KM, drina dnf 1,5 KM, te tigra 1,5 KM.