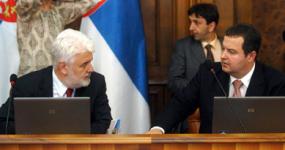 A Serbian delegation led by Foreign Minister Vuk Jeremic has refused to participate in the Croatia Summit 2009, which opened last night in Dubrovnik, Croatian national television, HRT, reported.
According to the HRT website, the reason for Jeremic's refusal to take part in the summit was a misunderstanding over the arrangement regarding Kosovo's participation.
"We made a precise arrangement with Croatia summit organizers, which the Croatian side turned down, forcing us to cancel our arrival unfortunately," Jeremic told HRT, without providing any details of the arrangement to which he eluded.
Media is speculating that the Croatian Foreign Ministry had refused to allow Jeremic to make an opening speech alongside newly appointed Croatian Prime Minister Jadranka Kosor, Hungarian Prime Minister Gordon Bajnai, US Deputy Secretary of State James Steinberg and Sweden Foreign Minister Carl Bildt due to Jeremic's previous accusations against Croatia for alleged ethnic cleansing.
The Croatian Summit 2009, which is focusing on European strategic imperatives – energy, investments, development – gathers European and North American high-level officials to discuss EU and NATO's future presence in Southeastern Europe.