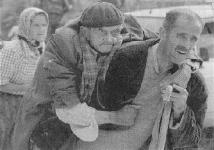 Montenegro's parliament yesterday adopted a declaration condemning the 1995 Srebrenica massacre and other atrocities committed during the conflicts in the former Yugoslavia.
The declaration accepts a European Parliament resolution on Srebrenica from January this year, condemning war crimes in Srebrenica and proclaiming July 11 a day of remembrance for the victims of Srebrenica.
Some 8,000 Bosniak (Bosnian Muslim) men were killed by Bosnian Serb military and police forces in the July 1995 offensive. The massacre has been termed genocide by the International Criminal Tribunal for the former Yugoslavia, ICTY, during the trials of Bosnian Serb commanders..
"The Montenegrin parliament believes that, despite the fact that in Montenegro – notwithstanding all the misconceptions and mistakes during the drama of the last Yugoslav war – contact with the traditional coexistence of peoples and nations has been maintained through positive examples, there are grounds for an even more decisive confrontation with the truth of these crimes," the declaration states.
At the time of the Srebrenica genocide, Montenegro and Serbia were two republics in the then-Yugoslavia. After the proclamation of the Montenegro independence, its officials formally apologised to the Bosnian victims for its role during the Bosnian war.
The European Parliament resolution called the Srebrenica genocide "the biggest war crime in Europe since the end of WWII" and a "a symbol of the international community's impotence to intervene and protect civilians".
The European Parliament resolution also called on all Balkans countries to do adopt the declaration, though Bosnia itself has failed to do so.
The resolution in the Bosnian Parliament failed after Bosnian Serbs rejected the document, saying that Bosnia's 1992-1995 war had claimed Serb victims, too.
Even though Bosnian Serbs authorities admitted in 2004 that their forces had killed some 8,000 Srebrenica Muslims, they condemned the resolution.