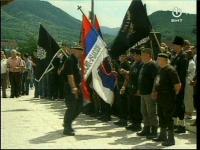 The 14th anniversary of the massacre of Bosniaks (Bosnian Muslims) in Srebrenica and the memorial service for fallen Bosnian Serb soldiers in nearby Bratunac were marred by ethnic tensions over the weekend.
Injuries and more serious consequences were averted by local police, which prevented Bosniak and Bosnian Serb groups from clashing with each other, officials and media reported. 
Reports of minor, ethnic-related incidents took place over the weekend in the eastern Bosnian towns of Srebrenica and Bratunac and in the northern Serb-dominated town of Doboj.
Some 40,000 Bosniak mourners, a number of western diplomats and civic associations from across the region attended the somber burial ceremony on Saturday for 534 newly identified victims of the 1995 Srebrenica massacre. No Bosnian Serb high-level officials were present at the ceremony.
On July 11, 1995, Bosnian Serb forces led by General Ratko Mladic brushed aside UN Dutch peacekeepers and seized this Bosniak enclave. After releasing most of the women, children and elderly, Bosnian Serb forces killed some 8,000 men and boys who either remained in town or tried to flee but were caught.
"The massacre was a stain on our collective consciousness," Charles English, US ambassador to Bosnia, said in his address, repeating words used by US President Barack Obama in Cairo last month.
Saturday's ceremony passed graciously, but a few minor incidents were registered only hours before it started.
On Friday night, a group of young Bosniaks – who were participating in a peace march – burned a stack of hay and verbally assaulted and threatened a Bosnian Serb farmer near Srebrenica. Police decided not to arrest the perpetrators but to closely monitor them.
On Saturday morning, police in the northern Serb-dominated town of Doboj discovered graffiti on a mosque and the walls of a pedestrian overpass containing threatening messages to Bosniaks.
Two bigger incidents took place on Sunday, following a memorial ceremony held in Bratunac by Bosnian Serbs to commemorate the death of 3,267 Bosnian Serbs, mostly soldiers, who were killed in the fighting in the region in 1992-3.
Following the commemoration, one of several radical groups which participated in the ceremony tore down Bosnia's national flag from the Bratunac town-hall building, urinating and spitting on it. Then they verbally assaulted and threatened a local Bosniak resident who had recently returned to Bartunac after being a refugee for years. Police were present but did not react.
Apparently the same group caused another incident later on Sunday in Srebrenica. After arriving from Bratunac, the group marched through the town chanting "This is Serbia," provoking a group of local Bosniak returnees, who replied in a kind, chanting back "This is Bosnia."
Police on the scene prevented the two groups from clashing, after which the Serbs left the town. It was still not clear whether the members of the group were Serbs from Bosnia, Serbia or Kosovo, or mixed.
Bosnian Serb officials strongly condemned the incidents.
"We did not need this. The stain is on the organizer of the event in Bratunac," said Miladin Dragicevic, an advisor to Milorad Dodik, prime minister of Bosnia's Serb-dominated entity of Republika Srpska, who was present in Bratunac on behalf of Dodik.
While media is keen to equate the incidents with a renewed 1995, wartime atmosphere, with headlines such as "Return to (wartime) 1995" as the daily Oslobodjenje headlined, there is perhaps some cause for concern.
Though the incidents indeed reflect tensions that usually run high during the annual commemoration of the massacre at Srebrenica, they also may indicate increased unrest as a result of Bosnia's worst post-war political crisis to date.
Over the past months Bosnia appears to have reached a total, complete and utter political deadlock, as local leaders seemed to have stopped trying to achieve any compromise, but instead focused on how to outsmart, humiliate, and/or bring each other down. This political ruckus is taking place in complete disregard of the possible consequences for their people and the country.