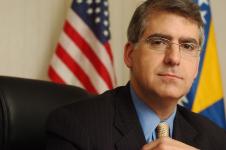 On the heels of the latest senior US Congressional delegation visit to Bosnia and Herzegovina, yet another diplomatic incident involving senior American officials indicates that US diplomatic efforts in the troubled country are being increasingly snubbed.
The US delegation, made of Russ Carnahan (Democrat from Missouri), Mike Turner (Republican from Ohio), and Lynn Woolsey (Democrat from California), arrived in Bosnia on Friday and stayed through Monday. 
After participating in the 14th commemoration of the Srebrenica massacre on Saturday, the US officials held a number of meetings with Bosnian political leaders and youth on Sunday. After one more scheduled meeting on Monday, the delegation is scheduled to leave the country.
This was the second senior Congressional visit to Bosnia in only two weeks, in an apparent attempt to help the country and its leaders to get out of the worst political crisis since the end of the 1992-5 war. Benjamin L. Cardin (Democrat from Maryland) who is chairman of the Commission on Security and Cooperation in Europe (US Helsinki Commission), and Co-Chairman Congressman Alcee L. Hastings (Democrat from Florida), visited Bosnia at the end of June in part of a regional tour.
Judging by brief press statements given after Sunday's meetings with local leaders, the weekend talks appeared to have been largely uneventful and inconclusive. Yet media noted that top leaders of four out of Bosnia's eight main political parties were not present at the main meeting on Sunday evening.
At the meeting, the Bosnian Serb ruling Alliance of Independent Social Democrats, SNSD, and the second-strongest Bosniak (Bosnian Muslim) Party for Bosnia and Herzegovina, SZBH, were not represented at all as their leaders – Milorad Dodik and Haris Silajdzic who are perceived as the country's two most radical politicians – appeared to have ignored the event.
Leaders of the strongest Bosniak and Bosnian Croat parties – the Party of Democratic Action, SDA, and Croat Democratic Union, HDZ – Sulejman Tihic and Dragan Covic, also skipped the meeting but did send their deputies.
The visit comes amidst a new diplomatic and political scandal, which involves two top American officials in the country.
Namely, on Friday evening, Bosnia's State Security Minister Tarik Sadovic, in a press statement publicly accused American diplomacy of trying to secure his replacement.
"For a long period of time, the principle deputy High Representative (US diplomat) Raffi Gregorian and US Ambassador to Bosnia and Herzegovina Charles English are ultimately demanding from that SDA leader Sulejman Tihic remove Tarik Sadovic from the position of deputy chairman of the Council of Ministers and minister of security of Bosnia and Herzegovina," Sadovic said in his press statement.
"Neither of the two [Gregorian and English] dare to publicly utter this verified fact since it would be a first-grade diplomatic scandal," he added.
Two weeks ago, Tihic indeed asked Sadovic to resign from his post because of what was publicly seen as his increasingly poor communication and coordination with other local and foreign officials.
In his statement on Friday, Sadovic refuted claims of his blunders and refused to step down. He said he would resign only if Tihic admitted to foreign pressure or if Gregorian and English officially requested the move.
When contacted by Balkan Insight, the US embassy in Sarajevo failed to comment on Sadovic's accusations, but offered this reaction regarding the issue of Sadovic's replacement.
"This is an issue for the governing authorities of Bosnia and Herzegovina to decide. An appropriate basis for that decision should be the individual's performance and ability to demonstrate the leadership needed to address the important security issues Bosnia faces at this time," the embassy said in a written statement.
For more than a year, Gregorian has been incriminated in another ongoing diplomatic incident, with the prime minister of Bosnia's Serb-dominated entity of Republika Srpska, Milorad Dodik. Dodik has been repeatedly accusing Gregorian of political manipulations and of plotting for his removal and even arrest.
Last year, Dodik even pressed charges against Gregorian and several other local and international officials, accusing them of "conspiracy against Republika Srpska".
Several western diplomats have told Balkan Insight that the growing number of challenges and snubs of the US diplomatic efforts in Bosnia – including growing public criticism of English and Gregorian and the fact that top leaders ignore meetings with US Congressmen – may reflect growing frustration of local as well as EU officials with America.
The Obama administration has shown dramatically stronger interest in the Balkan region, but these efforts on the ground have been seen as still ill-targeted, focusing on short-term fixes while missing out on opportunities to secure long-term stability.
"US diplomacy here acts in the best example of its 'elephant in a china shop' tradition," one western diplomat told Balkan Insight.