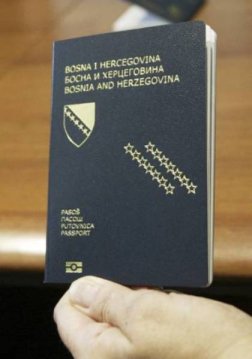 Bosnia-Herzegovina will start issuing out biometric passports from January 1, 2010 to all its citizens, despite the fact that they will still have to have visas for most travels abroad.
Bosnia`s Prime Minister Nikola Spiric presented the new biometric passport at a press conference in Sarajevo on Wednesday. The new passport will be protected from forgeries and include all important biometric information about the owner.
Spiric said that this is a significant step in accordance with international standards, which should enable the opportunity of free travels abroad for BH citizens.
Electronic check of information
Tests on the new system of issuing out biometric passports began two weeks ago and will take place until the end of year.
The new system includes the opportunity of electronic checks of all information important for the release of passports.
Introducing the new system has caused many difficulties for those who are trying to attain their passport via old forms.
Long queues are the usual site seen in front of most offices where passport claims are submitted.
Biometric passports are just one of many preconditions set by the European Commission, in order for the visa regime with BH to be annulled.
The Commission officially announced Wednesday that it recommends revoking visas by January 1, 2010 for Serbia, Macedonia and Montenegro, while it has been assessed that BH and Albania have not yet met the requested terms.