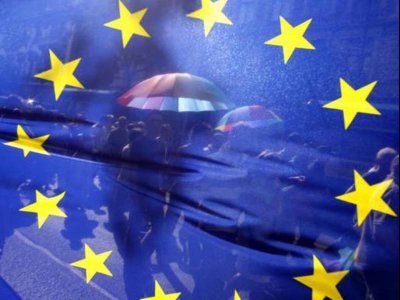 The European Commission proposed on Wednesday letting citizens of Macedonia, Montenegro and Serbia, which have been promised eventual EU membership, travel to the European Union without visas from Jan. 1.
The EU executive said it hoped to make a similar proposal for Albania and Bosnia by the middle of next year if they meet the 27-nation bloc's standards.
It said Macedonia had already met EU conditions and the concession for Serbia and Montenegro was dependent on their doing so by the time EU states approved the proposal.
Offering visa-free travel to the states of the Western Balkans, all of which have been promised EU entry, is a cornerstone of EU policy aimed at stabilising the region.
EU Enlargement Commissioner Olli Rehn called it an important day for the Western Balkans.
"It will mean a further Europeanisation of the civil societies in the Western Balkans," he told a news briefing.
The Commission said Albania and Bosnia needed to improve their efforts to fight organised crime and corruption and in procedures for delivering passports and border control.
Residents of Kosovo, which declared independence from Serbia last year, are not included in the plan, which will require citizens to have biometric passports and cover the EU's border-free Schengen area.
Schengen includes all EU states apart from Britain and Ireland, as well as Switzerland, Norway and Iceland.
Citizens of former Yugoslavia were able to travel visa-free to Western Europe until Yugoslavia's break-up in the 1990s. Of the former Yugoslav states, only Slovenia is an EU member, but neighbouring Croatia already has visa-free status.
CRITICISM
The plan to offer visa-free status to Serbia before Bosnia has met criticism. Greens in the European Parliament said it would deepen ethnic divisions by excluding Bosnian Muslims but not Bosnian Serbs who have access to Serbian passports.
Bosnian Foreign Minister Sven Alkalaj said at the weekend the visa plan would create a "ghetto" for Bosnian Muslims.
Rehn said it was up to Bosnia to pursue reforms and accused Bosnian politicians of wasting time with nationalist bickering.
"We can't punish the other citizens of the Western Balkans because of slow motion in some other countries," he said.
A package of reforms needed for visa liberalisation was blocked for months by Bosnian Serbs in the Bosnian parliament before being adopted under Western and public pressure in June.