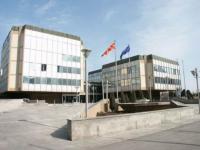 Macedonia will soon wrap up its judiciary reforms to ensure a recommendation to begin EU accession talks, senior Macedonian officials said Wednesday.
At a joint press conference, Macedonian Deputy Prime Minister in Charge of European AffairsVasko Naumovski and Justice Minister Mihajlo Manevski vowed to speed up reforms.
"I was reassured by Minister Manevski that work in the next few weeks will be intensified to ensure that an adequate result is produced," Naumovski said.
Macedonia obtained the status of an EU candidate country back in 2005. If the country does not receive a date this autumn, it would be the fourth year in a row that the European Commission had delayed giving Macedonia a green light, citing the sluggish pace of reforms.
Alongside judicial reforms, Macedonia's State Secretary for European Integration, Pero Dimsovski, recently announced that the country must harmonize four key laws with EU standards in the next two months if Skopje is to have any chance of obtaining a start date in this autumn's EC country report.
After several delays, the laws on internal affairs and on the financing of parties were recently submitted to the Parliament for adoption. The laws on state administration and parliament are expected to enter the same procedure shortly.
The EU ambassador to the country, Erwan Fouere, recently also warned that a speedy reform pace is needed if the country could expect to fulfill the requirements.
Brussels' official decision on visa liberalization for Macedonia will mean more freedom, but also dignity for Macedonian citizens, the Foreign Minister Antonio Milososki meanwhile said on Wednesday. Greeting the decision, Milososki said is was beneficial move, "meaning more of Europe's values in Macedonia and vice versa".
Commenting on the EC decision to recommend visa scrapping for Macedonian citizens traveling to EU countries, the head of the EU department at Macedonia's Foreign Ministry, Agneza Rusi, on Tuesday said that country's "primary goal remains acquiring a date for start of Macedonia's EU accession talks", and that visa liberalization, although a great leap forward, "cannot be a supplement for that".