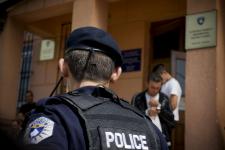 Three Albanian Kosovars have been arrested by Serbian gendarmerie near the border with Serbia on Wednesday for allegedly crossing the border illegally, Kosovo police confirm.
Sabri, Nexhip and Riad Dema were farming their land in the municipality of Pudojevo on Wednesday evening when they were arrested, their family told daily Koha Ditore. It is alleged that they were on Kosovo territory at the time.
The commander of the regional border police station, Ilmi Mehemti, said that Kosovo border police and an Italian Kosovo Force team went to the area Thursday to investigate the incident.
According to the Dema family, the three men remain in detention at an unknown station in Serbia.
This is not the first time Albanian Kosovars have purportedly been arrested near the Serbian border.
Pudojevo police station reports that, since the end of the 1998-99 conflict, 25 Albanian Kosovars from the region have been arrested for allegedly illegally crossing the border,and have had to pay fines in Serbia to secure their release.
A Kosovo police spokesperson, Besim Hoti, told a press conference on Friday that these arrests keep occurring because of problems associated with the demarcation of the border