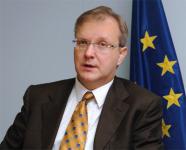 Due to sudden health problems, EU enlargement commissioner Olli Rehn has canceled his scheduled meetings in Sarajevo on Friday, EU officials confirm.
During his three-day tour of the Balkans, Rehn visited Montenegro, Macedonia and Serbia. He arrived in Sarajevo on Thursday evening and was supposed to meet Bosnian officials and address the state parliament on Friday. The address and all meetings were canceled due to his sudden health problems. 
The EU did not disclose further details concerning the state of Rehn's health, aside from stressing that his maladies are not serious.
EU officials, speaking on condition of anonymity, told Balkan Insight that the EU enlargement commissioner has "lost his voice" after late-night meetings in Belgrade. Rehn had apparently already departed Sarajevo by Friday afternoon.
His visit was aimed at reminding Balkan leaders of the remaining conditions required by their states to obtain visa-free travel to the EU.
The European Commission's visa-liberalisation plan, which was presented last week, has triggered a major public debate in the Balkans and across Europe; largely because it has offered visa-free travel to Serbia while excluding Bosnia and Herzegovina and Kosovo.
Unable to meet Bosnian leaders on Friday, Rehn urged local politicians to speed the fulfillment of the few remaining conditions required for involvement in the visa-liberalisation process and expressed his conviction that Bosnia will quickly join those countries already accepted in the scheme, local media reported.