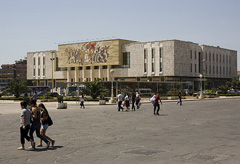 ALBANIA
The Union of the Albanian Police Force requested today from the Interior Minister Bujar Nishani to resign from the post.
The Union's Syndicate Valentin Matsaj said that the Union's move was prompted by suspicions that members of police forces had tipped the criminal Dritan Dajti about busting operation against him. In an attempt to arrest Dajti, four police officers were in Durres last week.
Matsaj called the minister to take responsibility for the officers' deaths.