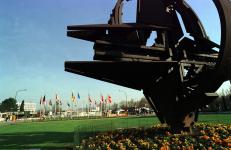 BiH
The first elements of a US Armed Forces' contingent have started arriving in Bosnia and Herzegovina for NATO's Joint Endeavor 2009 military exercise.
"Joint Endeavor 2009 is a test for Bosnia and Herzegovina," Republika Srpska Television opined on Friday.
This is the first time this annual NATO exercise is taking place in a country that is not a NATO member. The Alliance has decided to hold the training operation in Bosnia in order to show its supports for the country's NATO membership process.
The exercise will be held from September 4-17 at the Kozara military barracks near Banja Luka, the administrative seat of Bosnia's Serb-dominated Republika Srpska entity.
Brigadier Dragan Peric, who is in charge of preparations for the exercise, told reporters that Joint Endeavor 2009 will test military communication systems and does not include troop movements. The exercise will also run simultaneously in Denmark and Holland, he explained.
In a Thursday press statement, the US embassy in Sarajevo said that US military personnel who are to take part in the exercise had started arriving in Bosnia the day before.
Around 75 US servicemen will be involved, including communications specialists, technicians and site inspectors. There will be around 570 participants in all, hailing from more than 40 nations, the statement said.
The exercise has provoked considerable controversy, with local media and officials expressing their concerns that NATO may have a hidden agenda in holding the exercise in Republika Srpska. Some officials said NATO may use the event to gain information on or from Republika Srpska communication facilities, or on weapons and ammunition depots.
Concerned at these prospects, some Bosnian Serb veterans' and citizens' associations have pledged to hold demonstrations ahead of the exercise.