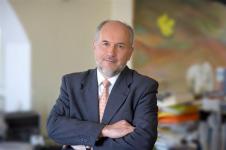 BiH
Bosnia's top western envoy has urged Croatia, Slovenia and Turkey to provide further support to Bosnia's bid for full NATO and EU membership.
On Monday, Bosnia's High Representative Valentin Inzko met Croatian Foreign Minister Gordan Jandrokovic, Slovenian Foreign Minister Samuel Zbogar and Turkey's Foreign Minister Ahmet Davutoglu, oin the margins of a key strategic conference in the Slovenian resort of Bled. He informed them of the current situation in Bosnia and Herzegovina and on progress made in fulfilling the required conditions for the closure of the Office of the High Representative, OHR. He thanked the three ministers for their countries' past support for Bosnia.
During his stay in Bled, Inzko also met US Deputy Assistant Secretary of State for European and Eurasian Affairs Stewart Jones.
Inzko's plea for increased support comes amidst an escalation of political tensions in Bosnia. Only last week, Bosnian Croat ministers walked out of the government of the Croat-Bosniak (Bosnian Muslim) Federation, after being outvoted by Bosniak colleagues on the proposed route of a key motorway. Concurrently, Bosniak politicians threatened to walk out of the state government over a disagreement concerning the distribution of key positions in state institutions.
OHR officials urged Bosnian leaders to end their political quarrels and to focus on the reforms required for the country's NATO and EU accession processes, and on addressing economic and social challenges.
Jandrokovic and Zbogar apparently made some progress in resolving their countries' territorial dispute on the margins of the Bled forum. Zbogar also held a separate meeting with Davutoglu, reaffirming Slovenia's support for Turkey's bid for full EU membership.
More than 400 politicians and economists from all over the world attended the Bled Strategic Forum on Sunday and Monday. This is the fourth year this event has being organised by Slovenia, with the aim of providing an opportunity for regional and global leaders to discuss key issues and challenges.
This year's forum focused on the consequences of the current economic crisis in Europe and Eurasia.