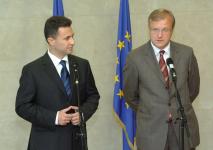 MACEDONIA
Macedonia has a serious chance of receiving a recommended start date for EU accession talks this autumn if the positive progress of recent months continues, EU Enlargement Commissioner Olli Rehn says.
Rehn's comments come only a month before the European Commission, EC, prepares its annual report on the country's reform progress, which Skopje hopes will include the date recommendation. The EC should publish its report in mid-October.
Macedonia is making "good progress" and, if it completes remaining reforms, the EU will be able to recommend the start of accession talks "this year", Rehn told a press conference in Brussels. He reserved particular praise for recent judicial reforms.
Macedonia was tasked with passing several key legislative bills this summer, in order to move on with its EU integration process.
Parliament recently passed legislation on the financing of political parties and on internal affairs. Legislators also signed off on a law that regulates the work of the legislature, and are considering a key draft law on public administration employment.
"We are doing our best, giving everything in our power to complete the strategic priorities and obligations given by the EU," Prime Minister Nikola Gruevski told local media on Wednesday.
Rehn also noted that the resolution of the Macedonia-Greece naming dispute, which led Greece to block Skopje's NATO membership process last year, is not a prerequisite for the start of EU accession talks.
However, he made it clear that the EU believes the spat should be ended quickly. This would prevent Athens from carrying out its threat to block Macedonia's EU entry.
Macedonia was granted EU candidate status in 2005, but the EC has refused to recommend the start of accession talks in intervening years, citing a lack of reform progress.