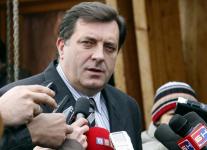 BiH
Families of the victims, representatives of opposition parties and a number of civil sociiety groups have called for Bosnian Serb leader Milorad Dodik to be declared persona non grata after he claimed a war-time massacre in Tuzla was orchestrated by Bosniaks (Bosnian Muslims).
More than 70 people were killed on May 25, 1995, when a single long-range artillery shell exploded in a square in downtown Tuzla. More than 120 civilians were wounded in the explosion. Most of those killed were children or teenagers.
In June 2009, the Court of Bosnia and Herzegovina found Novak Djukic, who commanded the Bosnian Serb army's tactical group stationed on Mt. Ozren near Tuzla at the time of the incident, guilty of the shelling and sentenced him to 25 years in prison.
However, as with similar atrocities in Sarajevo in 1994 and 1995, the verdict and the course of events in the Tuzla incident has been challenged by Republika Srpska Premier Milorad Dodik.
Dodik, who participated in commemorations for Bosnian Serb war victims over the weekend, told reporters that the Tuzla and Sarajevo massacres were staged by the Bosniak-dominated Bosnian Army to trigger an international reaction and provoke NATO military action against Bosnian Serbs.
Dodik also complained that the International Criminal Tribunal for the former Yugoslavia, ICTY, has mostly investigated and prosecuted war crimes committed by Bosnian Serbs, while ignoring those committed by Bosniaks and Bosnian Croats against Serbs.
It is widely accepted that the Kapija massacre in Tuzla in May 1995, and two massacres near the Markale market in Sarajevo in February 1994 and August 1995, were caused by artillery rounds fired from Bosnian Serb positions. In all three cases Bosnian Serbs accused Bosniaks of staging the incidents, but these claims were never backed up by serious sources.
Dodik's accusations, which come amidst escalating political tensions, shocked and outraged victims' families and opposition parties and civil society groups alike.
"This is yet another fascist statement from the premier of Republika Srpska, with which he is cunningly creating divisions among the people of Bosnia and Herzegovina and perfidiously maintaining himself in the leadership," Tuzla youth association "Revolt" alleged in a statement.
A number of NGOs, citizens' associations and political parties have asked the Tuzla City Council to declare Dodik persona non grata in the northern Bosnian town. Neither Tuzla officials nor Dodik have commented on this request.